Living in Hong Kong
Over 7 million people live in Hong Kong, making some districts among the world's most densely populated areas. Yet more than 70% of Hong Kong's total areas are rural, including about 40% designated as protected country parks. This means Hong Kong has one of the world's highest ratios of conserved parkland. Almost 95% of the population is Chinese. Chinese and English are the official languages. Cantonese is the most widely spoken Chinese dialect, though the use of Putonghua (Mandarin) is growing. All major signage is in English or is bilingual. Most people in the service industry speak English.
The Study in Hong Kong website, maintained by the Education Bureau of the Hong Kong SAR Government, provides plentiful information about living in Hong Kong.
Hong Kong ID Card
It is required by law in Hong Kong that all persons over the age of 15 carry valid photo identification. From time to time, the police make spot checks. In some extreme cases, failure to do so may risk being arrested by the police. Therefore you should carry your Hong Kong ID card with you at all times (which you will be eligible to apply for at the Hong Kong Immigration Department at NO cost).
Octopus Card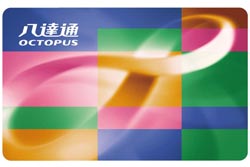 You can use the Octopus card (stored-value pass) to pay the fares on the Mass Transit Railway (MTR) and most of the buses, mini-buses, and ferries. The MTR offers concessionary fares to students. To enjoy concessionary fares, students must travel using a Personalized Octopus Card with "student status". You are eligible to apply for a Student Octopus Card directly from the MTR.
Students can complete the application through the Student Travel Scheme Online Application Platform accessible via the MTR Mobile app or the MTR website. For details, please refer to the tutorial video and communication kit provided by MTR.
Octopus cards can also be used at some selected convenience stores, fast food chains, supermarkets, and many eateries on campus.
Bank Accounts
There are two mini banks on campus:
You will need the following documents to open a Hong Kong bank account:
HKBU admission letter
Valid travel document (e.g. passport)
Hong Kong identity card (when available)
Proof of residential address in home country (e.g. home bank statements)
Proof of residential address in Hong Kong – You may obtain a letter from the Undergraduate Hall Management Office (Room SRH-G4)
Below are some banking options in Hong Kong. It is important that you research each banking institution to see which one best suits your financial needs.
Public Transport
The Hong Kong Transport Department provides information on various transportation options in Hong Kong.
This includes buses, mini-buses, MTR, taxis, etc. Please visit the webpage for more details.
Safety
Hong Kong is a remarkably safe city by day or night. Police officers patrol frequently and are helpful. Nonetheless, as in all big cities, avoid carrying large amounts of cash. If you go to crowded areas, always look after your own belongings and beware of pickpockets. The Hong Kong Police Force has stations and reporting centres throughout the territory. The emergency number is 999.