Virtual Exchange For HKBU Students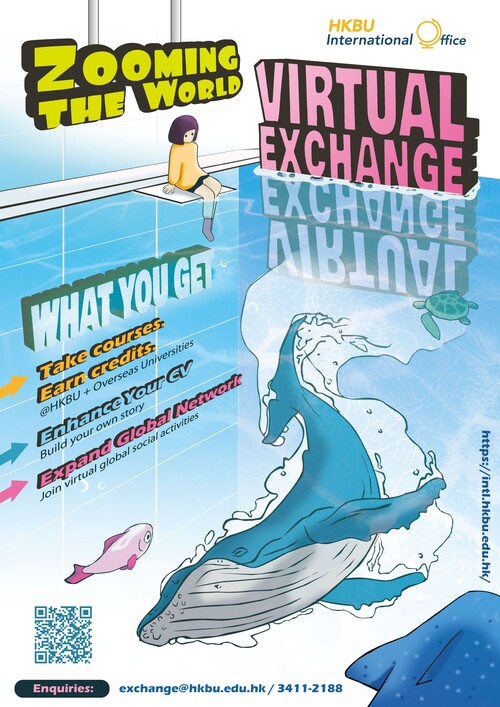 VIRTUAL EXCHANGE: Zooming the World!
The world we are living in is intrinsically digitalized, globalized and multicultural in nature.
Virtual exchange is an excellent opportunity for you to study in a cross-cultural environment, prepare for global challenges, develop digital competency, and improve your career prospects.
Apply now! *Take courses and earn credits from both HKBU and an overseas host institution, all in one semester!

*Please consult your academic advisor and observe the max. study load.

Easy Steps to Apply

Pay HKBU Tuition Only



You maintain the status of a full-time student at HKBU. Hence, you only pay tuition fee to HKBU and do not pay tuition fee to the host institution. However, some courses may require you to pay study-related fees (e.g. materials fee or laboratory fee).


Check with the host institution and course instructors.


Study Load



As a full-time student at HKBU, you are required to enroll for not less than 12 units and no more than 18 units in a semester.


Participating in virtual exchange, you attend classes both at HKBU and at a host institution. Check "Course Offerings" for the required/maximum number of credits you must/may enroll at the host institution. You can choose one host institution per semester only.


You are strongly advised to consult your academic advisor on your study plan, unit transfer and academic-related matters.


In the event of withdrawal, you are obligated to inform your i) academic department and ii) International Office in HKBU officially. Otherwise, the University will assume your full completion and participation in the enrolled virtual exchange courses.

Before Applying

Check if there are any pre-requisite or special requirements before applying for the course(s).

Pay attention to the host institution's add/drop deadlines and procedures.


Exams & Assessments

You should take note of the examinations and assessment arrangements at the host institution. Enroll only when you are able to meet with the arrangements.


Eligibility

To be recommended for participating in virtual exchange, you must meet all requirements below:

1. Enrolling in a full-time Government-funded undergraduate programme at HKBU.

2. Have obtained a minimum 2.5 cumulative GPA (cGPA) at the time of application.

3. Meet the eligibility requirements of the host institution.

Remarks
Not open to regular exchange students (both outgoing and incoming).



Upon completion of the course(s), you may apply to the Academic Registry for the transfer of units by submitting hard copies of the following documents:

1. A completed application form for transfer of units.

2. An official transcript issued by the host institution.

3. A copy of course syllabi, coursework and related information, such as the number of contact hours, assessment methods.

Remarks
The University reserves the right not granting units for courses with grades below the equivalence of grade C in the University grading system. Units transferred from other institutions are recorded without inclusion in grade point average calculations.


You are welcome to ask us any questions:
AAB703
3411-2188