Consul-General-in-Residence
Priyanka Chauhan, Consul General of India in Hong Kong

Ahmet Peyami Kalyoncu, Consul-General of Turkey in Hong Kong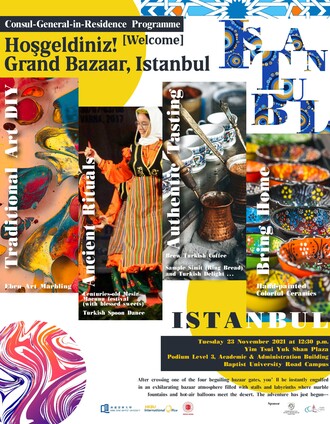 Programme Details
Consul-General-in-Residence Programme hosting
Legendary Grand Bazaar, Istanbul @HKBU
Proudly presented by the International Office, the Consul-General-in-Residence Programme vividly showcased "Hoşgeldiniz![Welcome] Grand Bazaar, Istanbul" on 23 November 2021, bringing everyone an exhilarating cultural experience on HKBU campus.
We were honored to have the Consul General of Turkey in Hong Kong Mr. Peyami Kalyoncu; Vice Consul Mr. Emrah Öcalan; CGiR Programme Sponsor and Chairman of Lam Kin Chung Morning Sun Charity Fund Dr. Lam Kin Chung; President Professor Alexander Wai; and Vice President (Teaching and Learning) Dr. Albert Chau to join us for fun and festivities. The event kicked off with Turkish folk song singing and a traditional Spoon Dance performance. Turkish Consul General Mr. Peyami Kalyoncu and President Professor Alexander Wai gave a toast and best wishes to participants with UNESCO Intangible Cultural Heritage Turkish coffee and the classic Hong Kong-style milk tea and to celebrate cross-cultural exchanges.
Inspired by the Mesir Macunu Festival (inscribed on UNESCO's Representative List of the Intangible Cultural Heritage), officiating guests with their digital wishing wands showered blessings to participants with colorful balloons and blessed candies.
Upon the announcement of opening, the Grand Bazaar soon buzzed with excitement. Over 1,000 participants came and enjoyed the carnival vibes and reveled in different exotic experiences, such as Turkish coffee brewing, traditional snacks sampling, Ebru art painting, evil eyes bracelet weaving, take-home colorful Turkish ceramics and accessories, appreciating special arts and handicrafts collections from the Consulate General of Turkey in Hong Kong, and snapping pictures at realistic photo-ops during their delightful adventure at the "Grand Bazaar, Istanbul".