Student Ambassadors
Activities
Buddies Scheme
"Lasting and rewarding friendships for everyone involved!" is the slogan for our Buddies Scheme. As a "Buddy", you will share your knowledge of HKBU and Hong Kong and help new international students become familiar with their surroundings, particularly during the first month of arrival at HKBU. You will serve as a primary contact for the new international students (IMMEDIATELY after you know who your assigned international students are). The International Office will assign international students with one or more of our Buddy volunteers.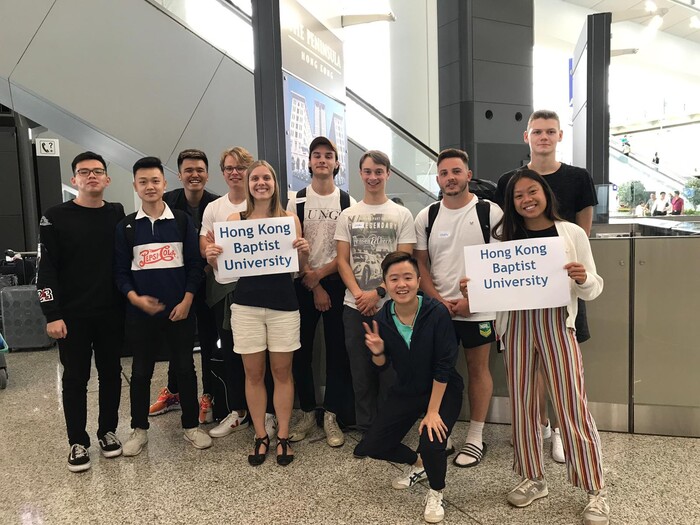 Arrival Pickup & Orientation Activities
As a student ambassador, you will be assigned to pick up new international students from the airport/train station and assist in various duties in the Orientation Activities. A great opportunity to be the first person to meet the new international students after their arrival!
Thursday Party

A themed social gathering on First Thursday every month, the Thursday Party aims to foster cross-cultural exchanges and enhance English language speaking opportunities between local and international students. Themes could range from the celebration of festivities (e.g. Mid-Autumn Festival, Chinese New Year) to the introduction of different cultures, or music/movie appreciation. As a student ambassador, you will plan, organise and host one of the themed gatherings.
Outings
Being a student ambassador, you will help design and bring excursion experiences to international students to help familiarize them with Hong Kong. Destinations vary from popular tourist spots (e.g. Mongkok and Yau Ma Tei) to outlying islands (e.g. Cheung Chau), or ecotourism/cultural spots (e.g. the GEO-Park).
Interested in any of the above activities?
Enroll in the
East-West Encounters Ambassadors Programme

now!
Make lifelong friendships and memories!
Enrollment Guidelines
Step 1
Full-time students of ANY year from ANY academic discipline/programme are welcome.
Step 3
Participants MUST attend the Required Briefing on 26 April 2019 (Friday). Any absence from the briefing will be considered as a withdrawal from your enrollment to the activity.
Required Briefing
26 April 2019 (Friday)
10:00 a.m. - 12:00 noon
icafé Activities Room
For enquiries feel free to contact the International Office at anytime
International Office
Hong Kong Baptist University
AAB703, Level 7, Academic and Administration Building
Baptist University Road Campus
Kowloon Tong
Hong Kong
Phone: +852 3411-2188
Fax: +852 3411-5568
Email: intl@hkbu.edu.hk
Website: http://intl.hkbu.edu.hk