Back
[CCL - 8 OCT] Global Youth Challenges - Late-Night Global Dialogue with Georgia College & State University Peers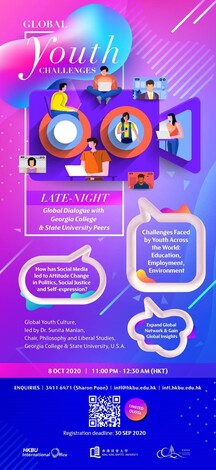 Event Details
| | |
| --- | --- |
| Event date | 08 Oct 2020 to 09 Oct 2020 |
| Event time | 23:00 - 00:30 |
| Venue | (Online Dialogue) |
More Details
[CCL - 8 OCT] Global Youth Challenges - Late-Night Global Dialogue with Georgia College & State University Peers

Limited Quota. Register HERE

Highlights:
- Challenges faced by youth across the world: Education, Employment, Environment
- How has social media led to attitude change in Politics, Social Justice and Self-expression?
- Expand global network & gain global insights

Description:
Global Youth Culture
- led by Dr. Sunita Manian, Chair, Philosophy and Liberal Studies, Georgia College & State University, U.S.A.

An introduction to the lives, hopes and dreams of youth around the world. We will look at how the access to social media in ways that were unimaginable in previous generations, has led to changes in attitudes and activism regarding politics, social justice and self- expression. We will explore the lives of youth around the world through their choice of music and dance. We will also study youth movements around the world to learn how youth across the world deal with various challenges, including in education, employment and the environment.
Participants will have an exciting opportunity to join a live dialogue session on different global issues with outstanding students from the Georgia College & State University in the U.S.