Fun Outings
"Let's explore Hong Kong together"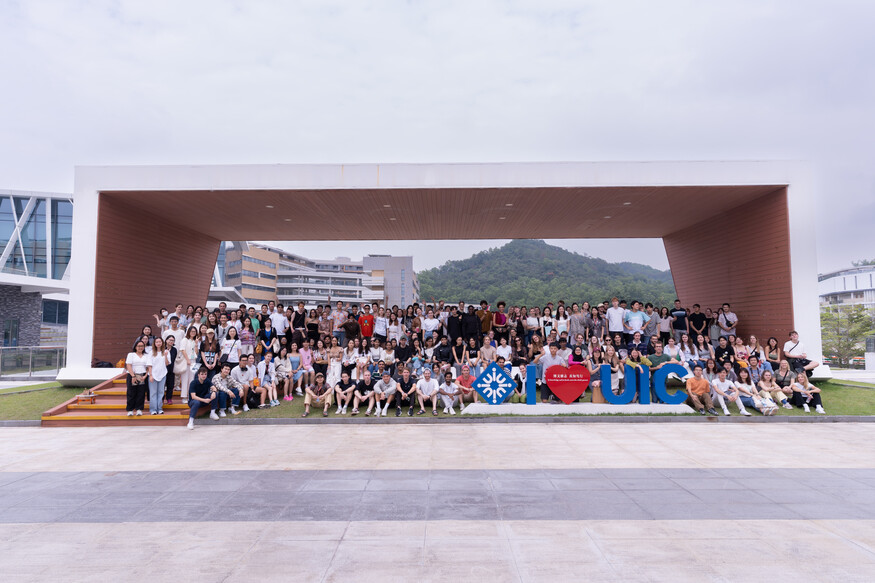 Cultural Immersive Tour at Greater Bay Area!
Embark on an extraordinary Greater Bay Area Tour to ignite your university life at HKBU! Discover the diverse offerings in Zhuhai and Zhuhai Campus. We have visits of significant cultural and historical sites; tours to the Zhuhai High-Tech Industrial Development Zone to witness the leading science and technology development. Immerse yourself in cultural experience showcasing the rich historical value and diversity of Chinese culture. Unleash your next adventure!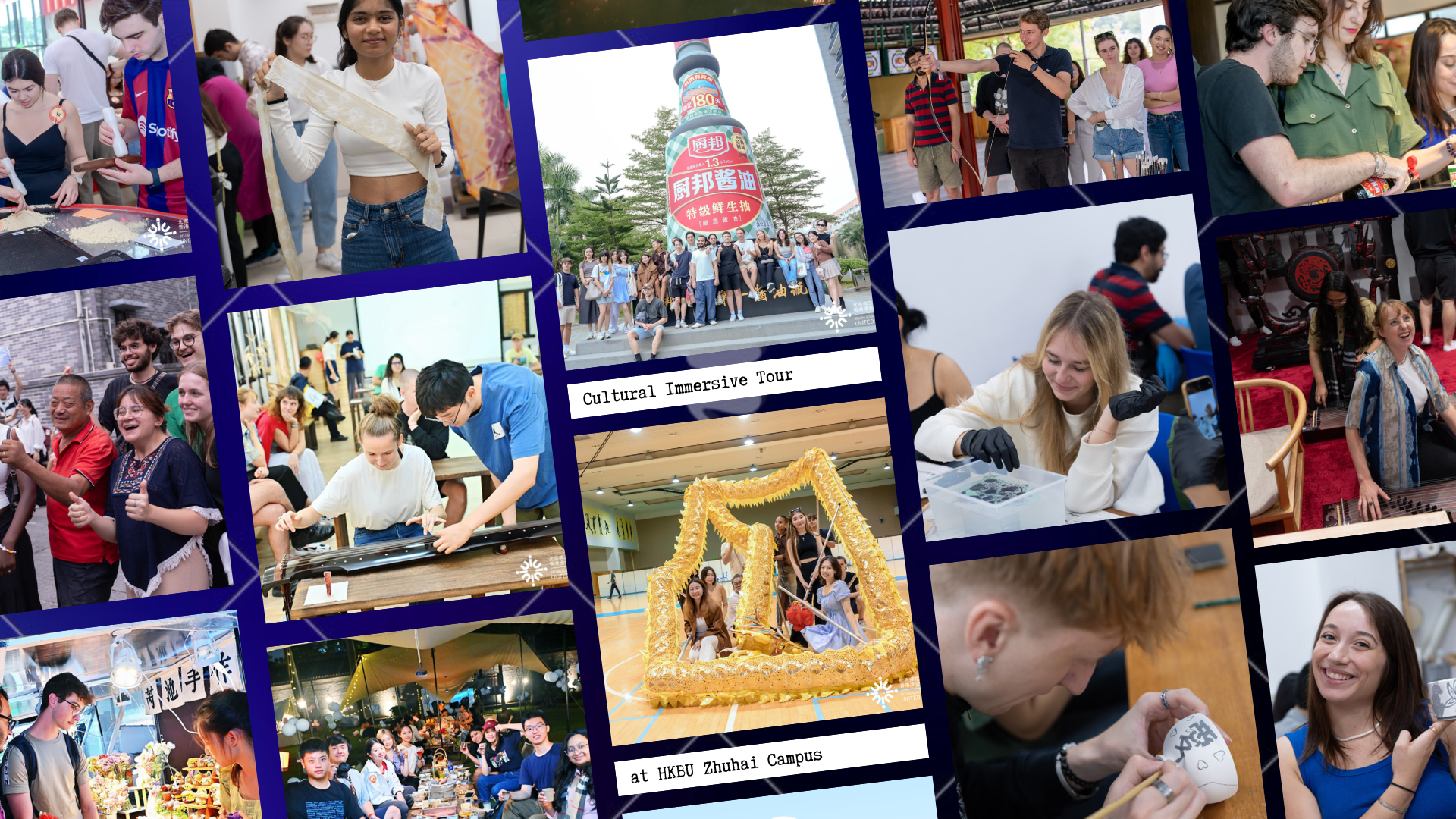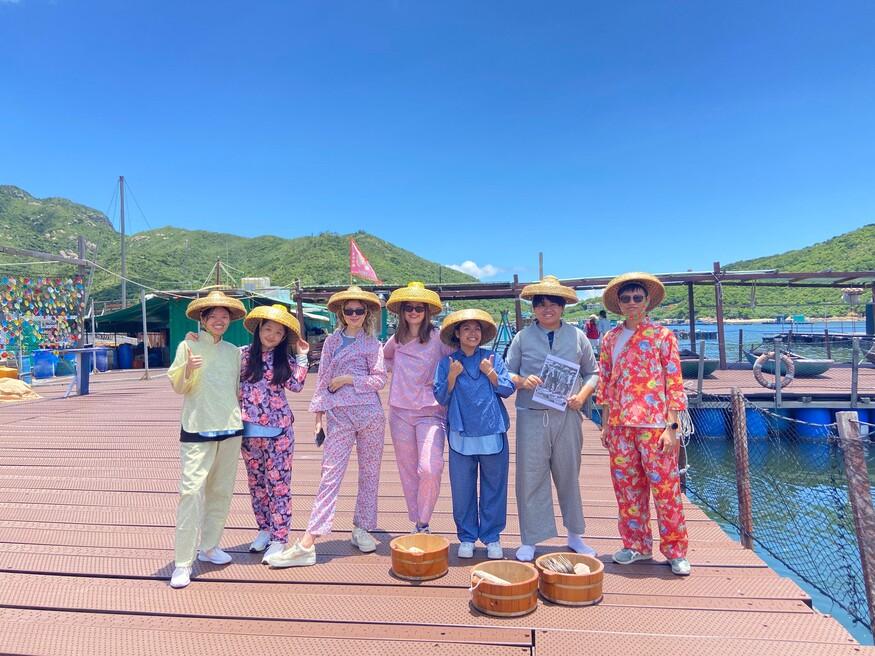 Be A One Day Fishermen
A thrilling day at Lamma Fisher Village, where you embark on a journey to discover the fascinating world of Hong Kong fishermen. Enjoying games that simulate the daily life of these skilled fishermen, learning the art of catching fish. And what better way to recharge than enjoying a delicious fish burger for lunch? Followed by a guided tour which take you through the rich history of Hong Kong's fishing heritage.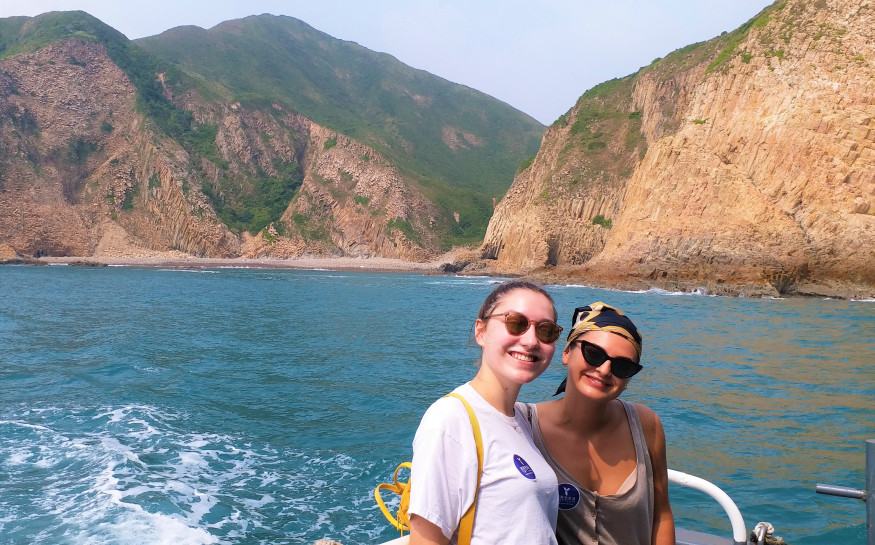 Geo Park Adventure - Sai Kung Boat Tour
In Hong Kong, nature's splendor and skyscraper landscape are both breathtaking. Be amazed by the geological wonders in Sai Kung, you'll see the globally rare hexagonal volcanic rock columns, incredible sea stacks and caves.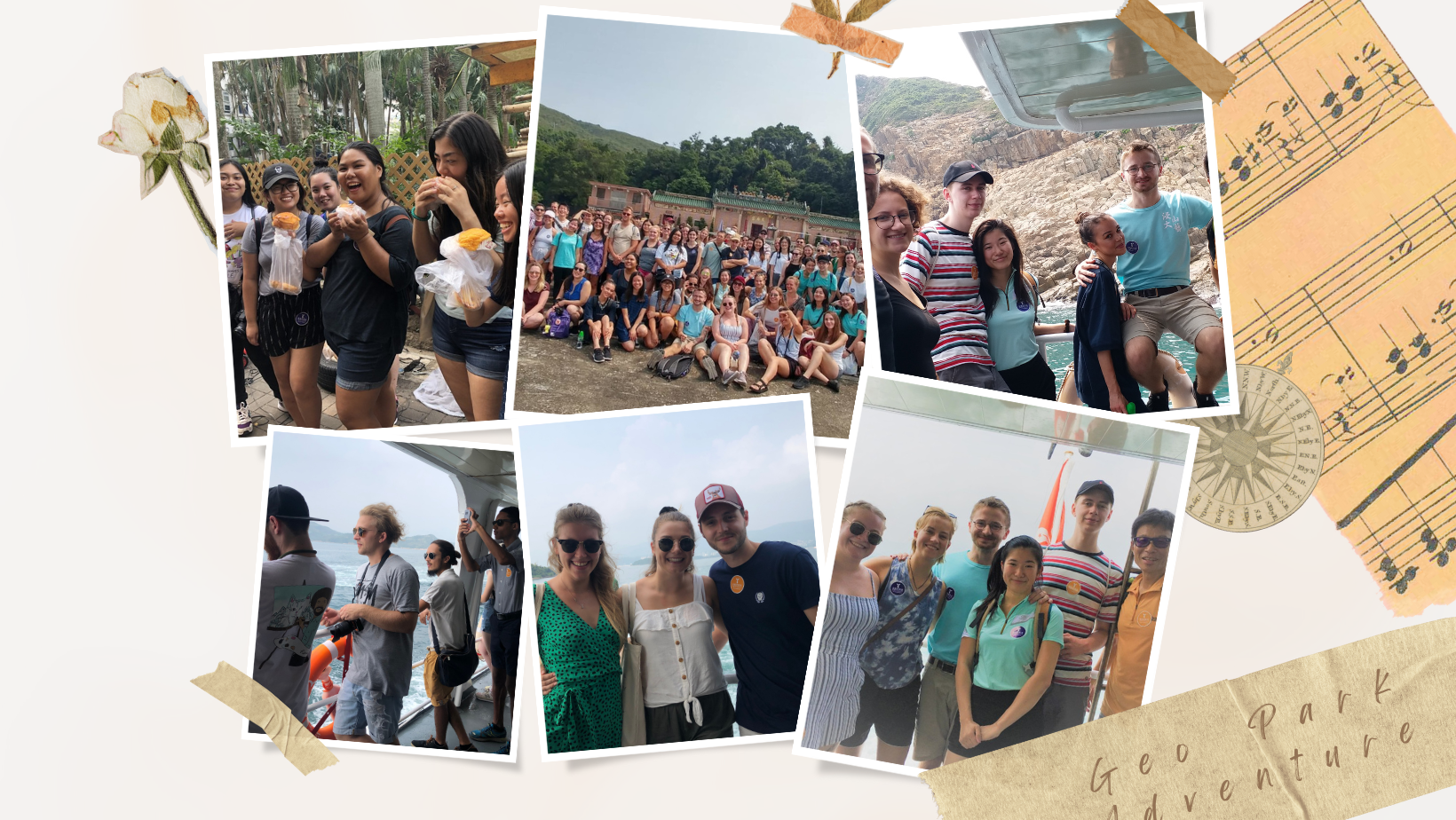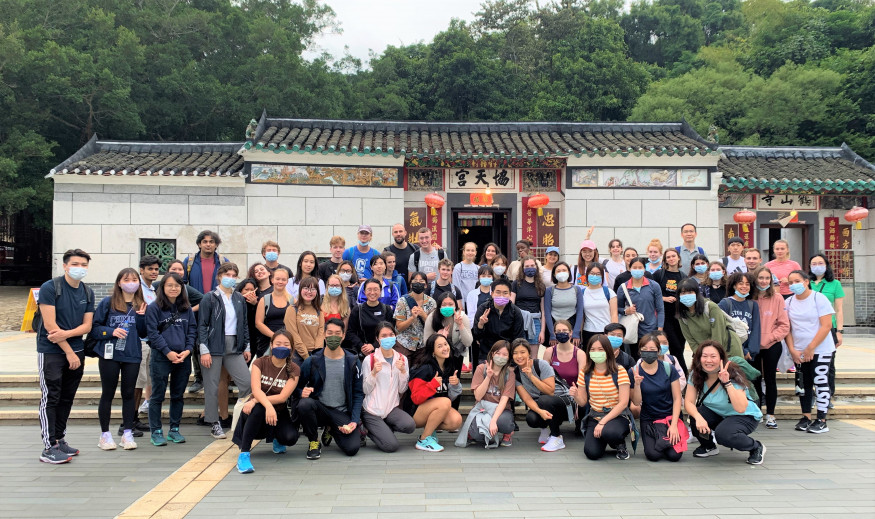 Hidden Hakka Village - Lai Chi Wo
Unwind together in Lai Chi Wo, not only a scenic place with a diverse ecological environment but also one of the oldest and best-preserved Hakka-walled villages in Hong Kong! Local farmers walk you through the restored farmland, taking in the fresh air with traditional Hakka cuisine.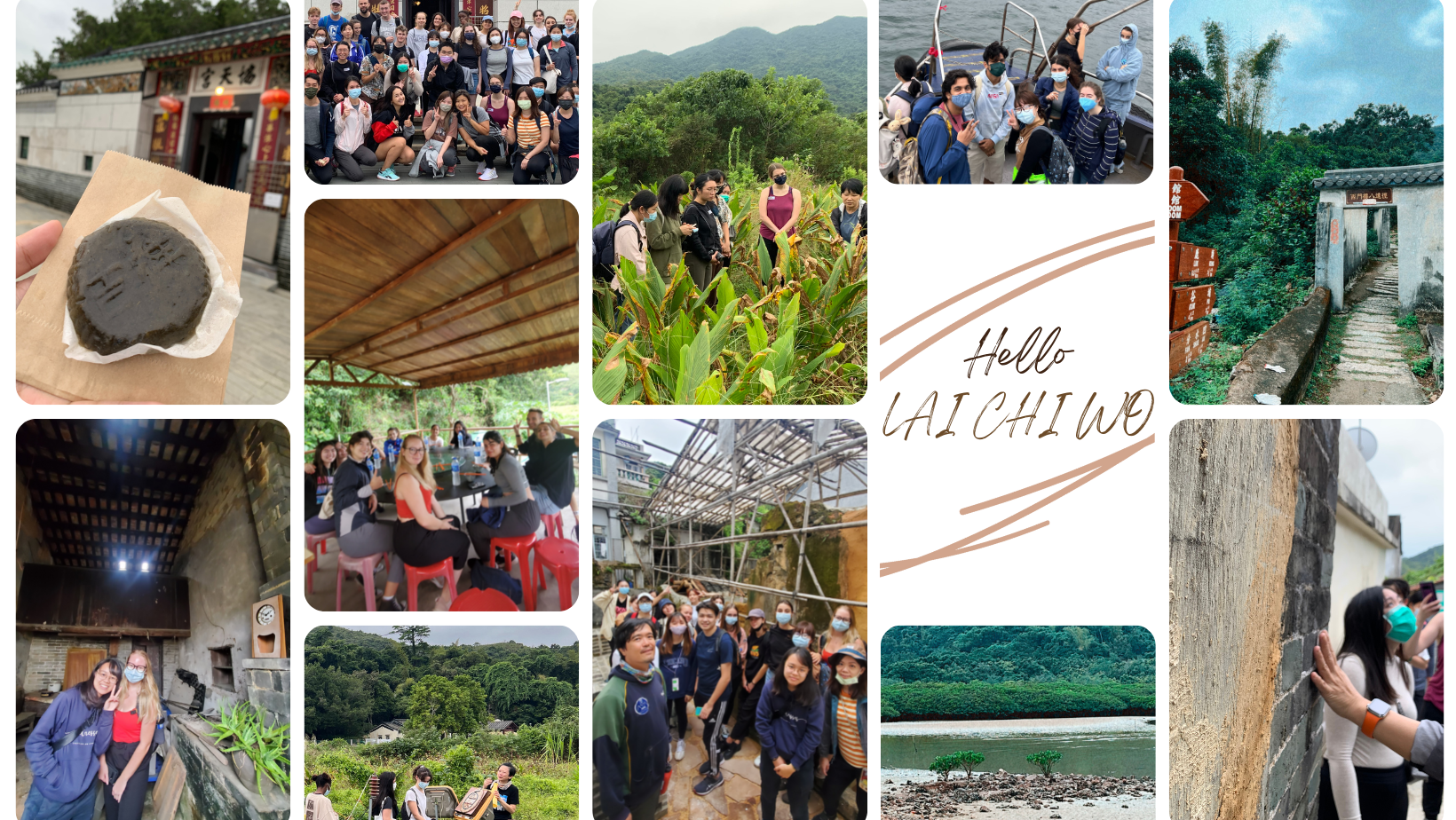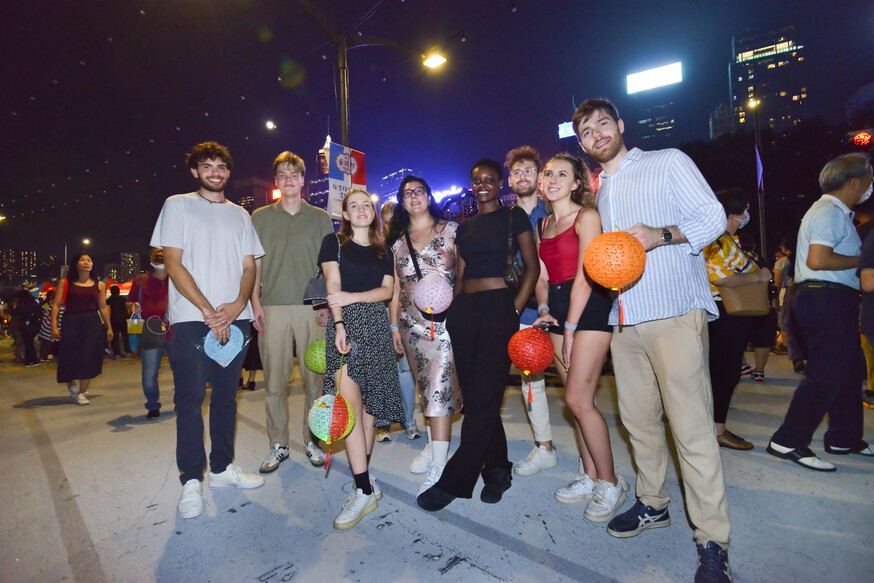 Over the Moon - Mid Autumn Festival Outing
Bathe in the moonlight and sweetness of mooncakes, we celebrate Mid-Autumn Festival with homies away from home. Light a lantern, and marvel at the spectacular skyline of Victoria Harbor with a ferry ride. Have fun at the Bazzar with lantern riddles and local handicrafts, what a night!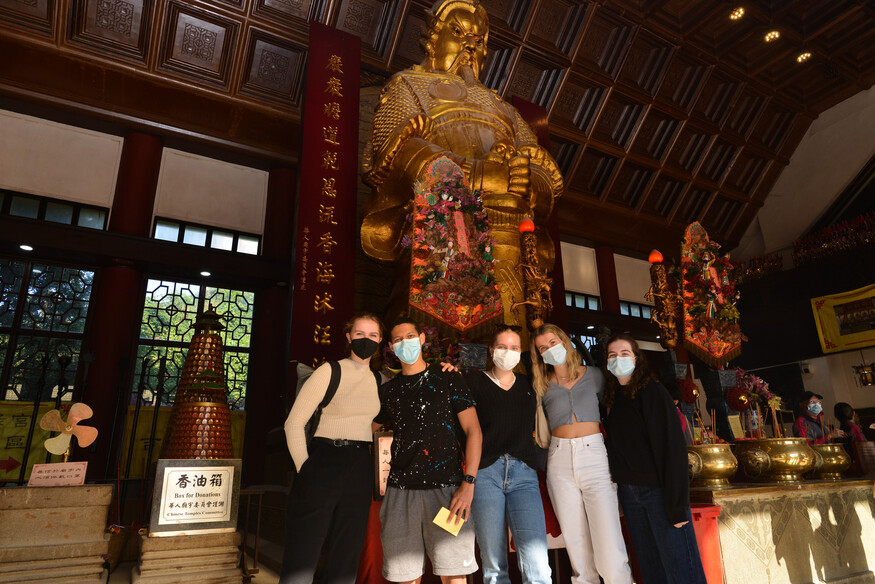 Chinese New Year Fun
Happy Chinese New Year! We celebrate the lunar new year the traditional way.
Visit Che Kung Temple and spin the wheel of fortune for good luck, draw a divination stick in front of the giant statue of Che Kung. Red pockets, sea of flowers at the flower market, and Chinese new year eve's dinner with friends. You are entering the Year of Rabbit with blessings and love.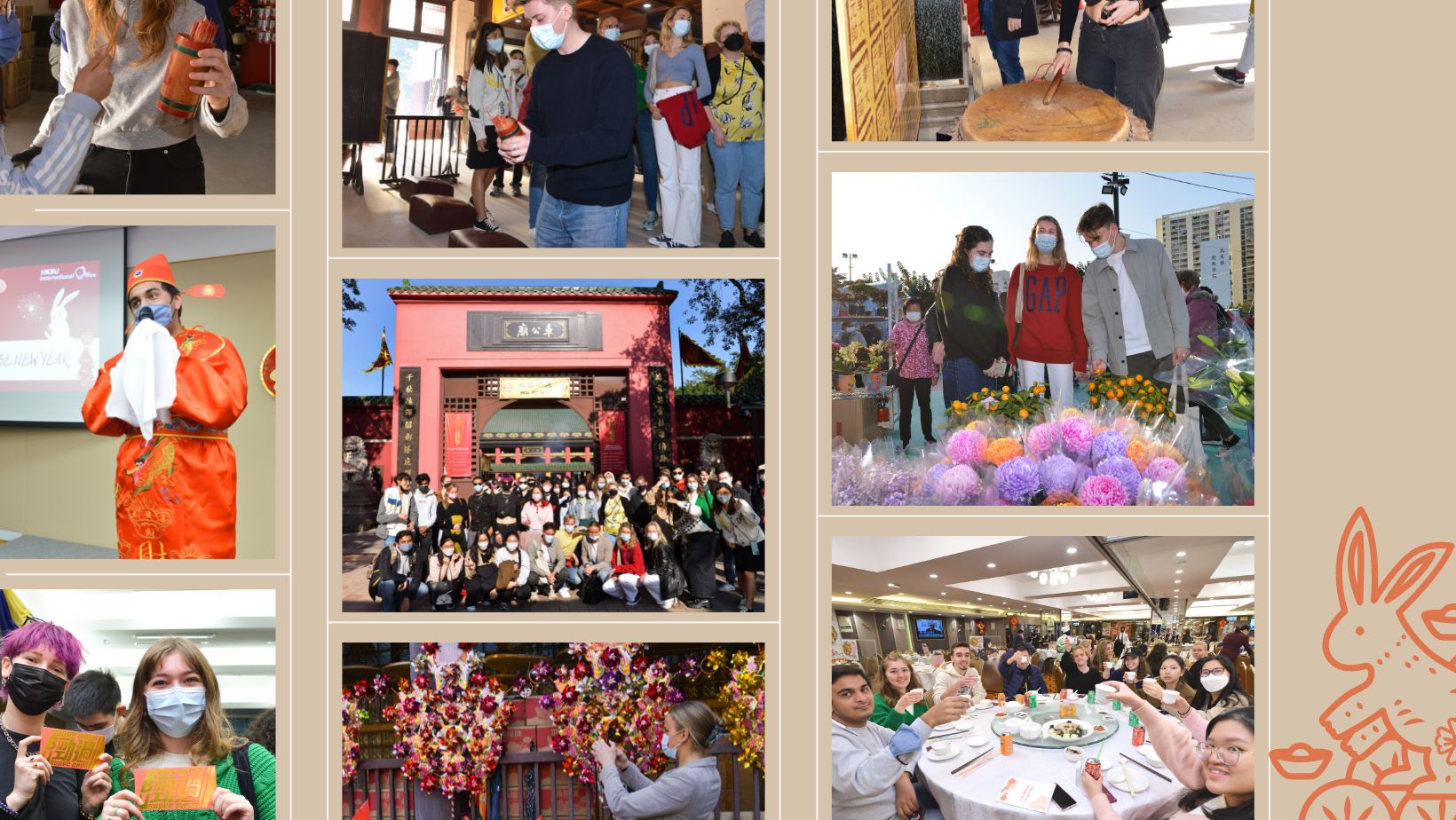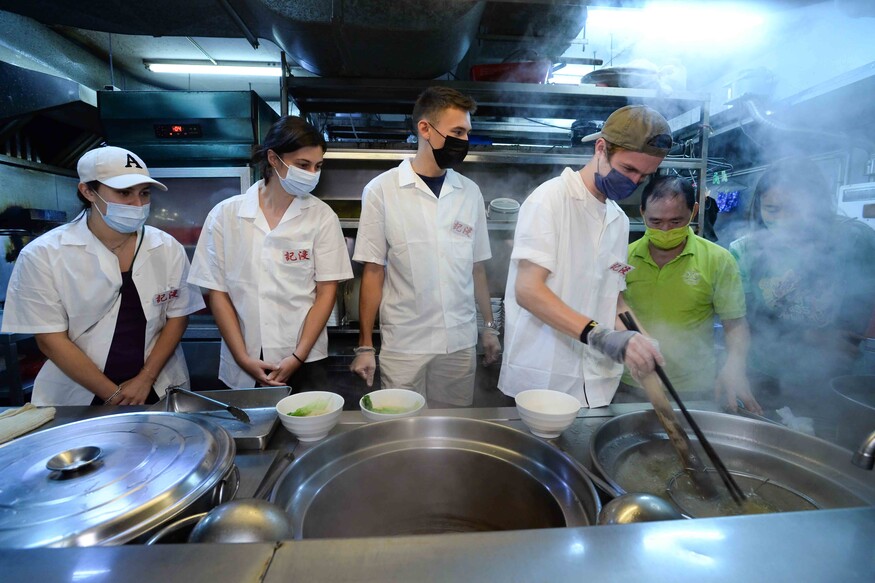 Authentic Wonton Noodle Party
Your apprenticeship journey starts here! Learn about the culture of wonton noodles, from its history to wonton making, and even secret formula shared by the master. An exclusive journey that even local Hong Kong people may not have experienced, you now can turn to be a ''Real'' Hongkonger.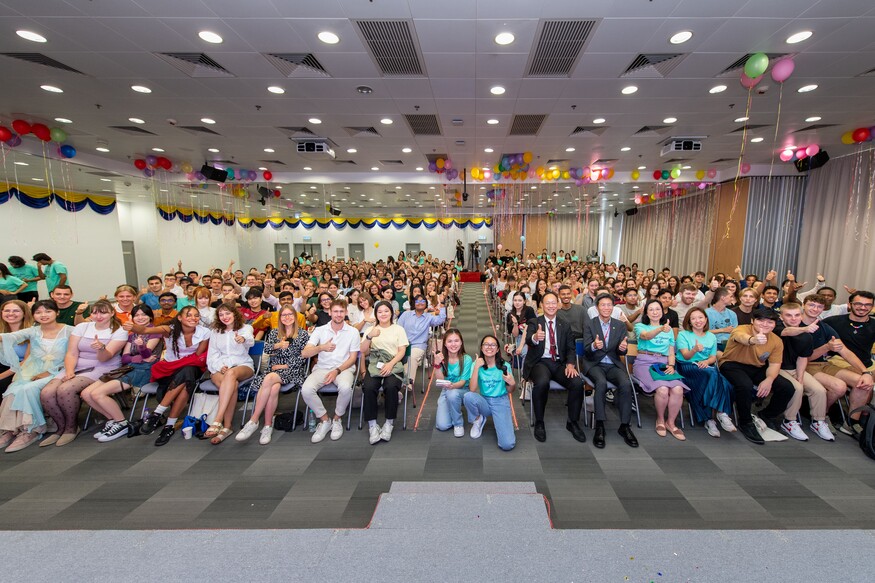 Color Your Semester
Get ready to "Color Your Life" in vibrant Hong Kong! Hearty greetings from the President and Vice President of Teaching and Learning. Our venue bursts with colors and balloons, reflecting the kaleidoscope of cultures and stories you bring, and inspiring us to embrace diversity. Hear stories behind the colors chosen by students and enjoy colorful performances. Can you guess Hong Kong objects from their colored parts? Let's make your exchange experience a brillant splash of colors!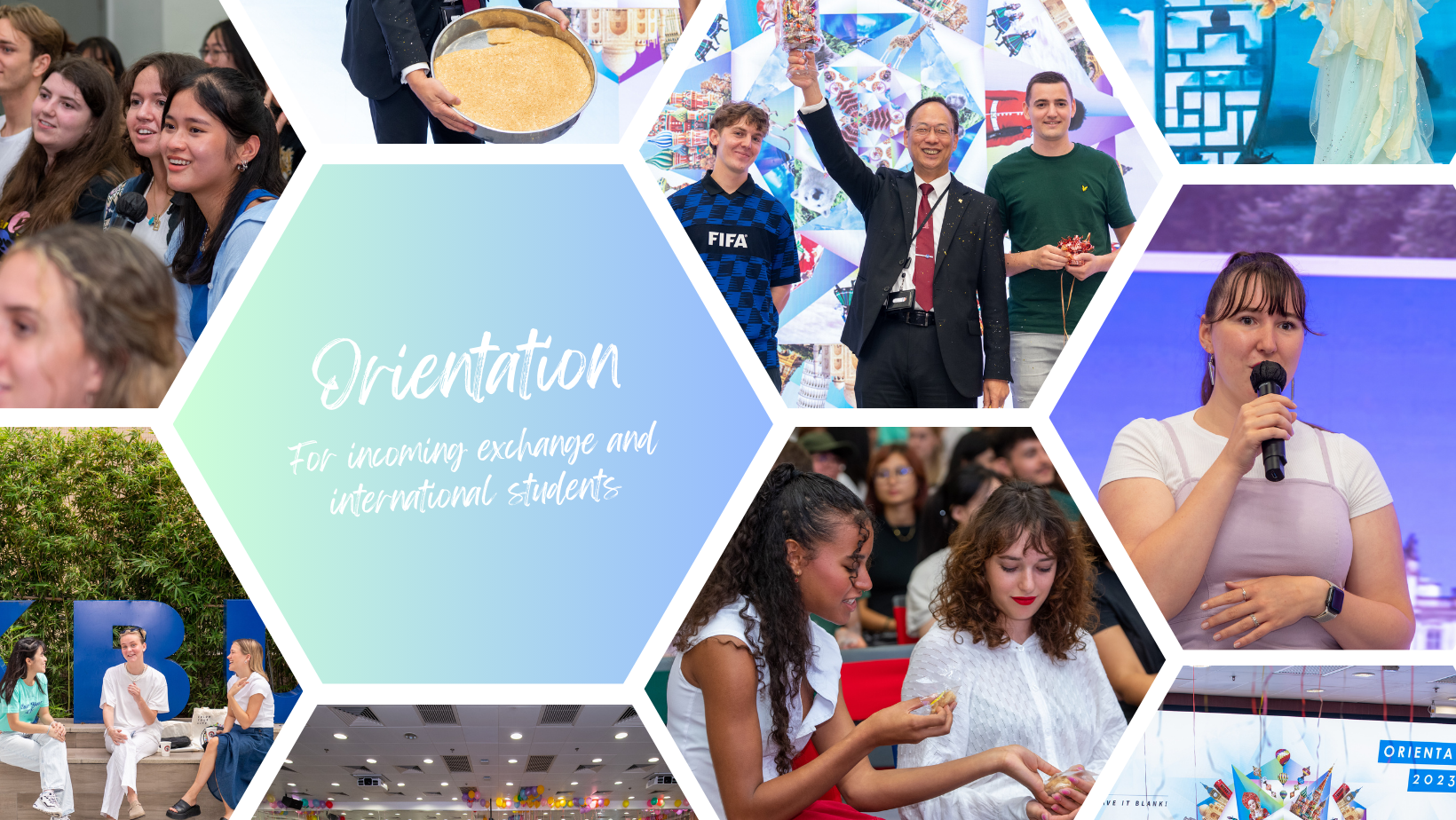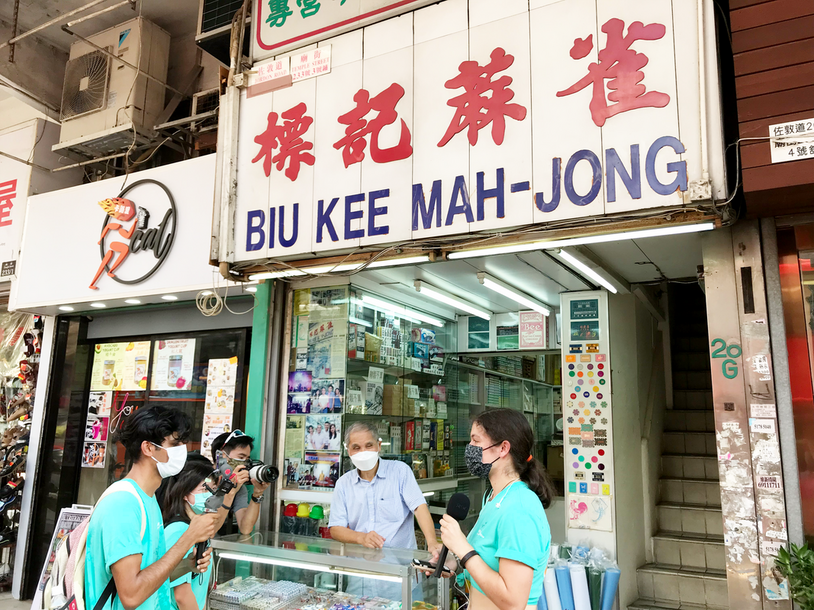 Timeless Treasure - Mahjong
Mahjong, fun, popular table game that symbolized Hong Kong culture, playing mahjong can even prevent cognitive decline! Walk among the century-old shops and visit the master who carves mahjong tiles by hand. Record the vanishing traditional arts and listen to the crafters' dreams before they are lost in time.
The Magical Theme Park Adventure
Immerse yourself in the wonders of this iconic theme park, create lifelong memories with your friends and embrace the joy and excitement that only Disneyland can offer. Enjoy your day filled with thrilling rides, beloved characters and magical moments!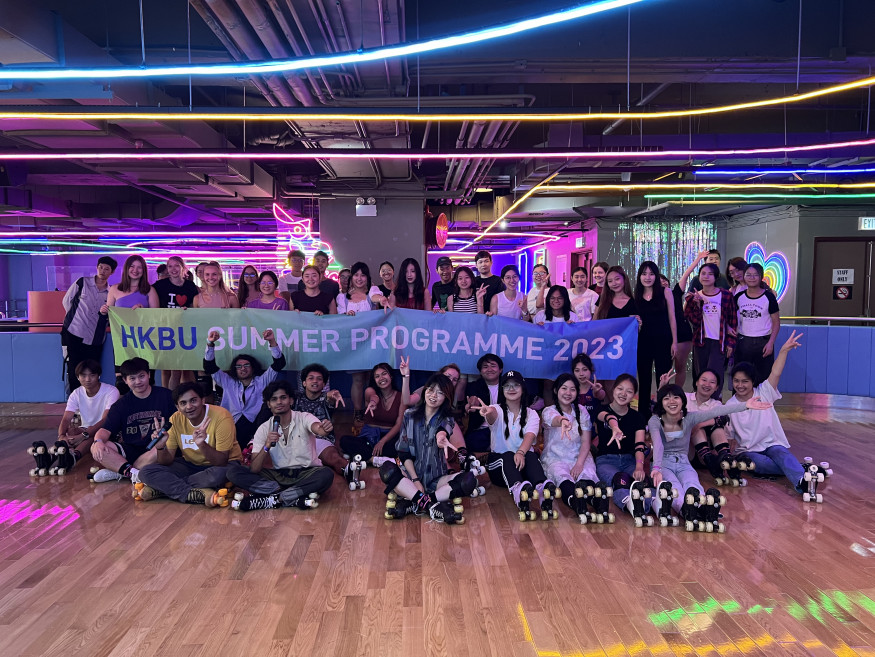 Let's Rock N "Roll" Roller Party
Experience the ultimate roller party extravaganza! Learn the art of roller-skating, participate in thrilling challenge games and bond with peers. The venue transforms into a vibrant 80s Hong Kong wonderland, adorned with dazzling neon lights. You'll gain an unforgettable day of fun, laughter and memories!
Little Salt Pan
Stumble across the Yim Tin Tsai island, a secluded Hakka fisherman village. Do you feel the warm sea breeze? A day to experience the traditional livelihood of the Hakka people, such as learning their wisdom of salt-making, fishing, and farming.
An Exploration of Hong Kong's Fast Food Culture ‒ A Taste of Fast-paced Lifestyle!
You get a taste of Hong Kong's fast food culture by making your own original instant ramen at My CUPNOODLES Factory and trying out quick meals at authentic cha chaan tengs (Hong Kong-style café) and quality dessert places!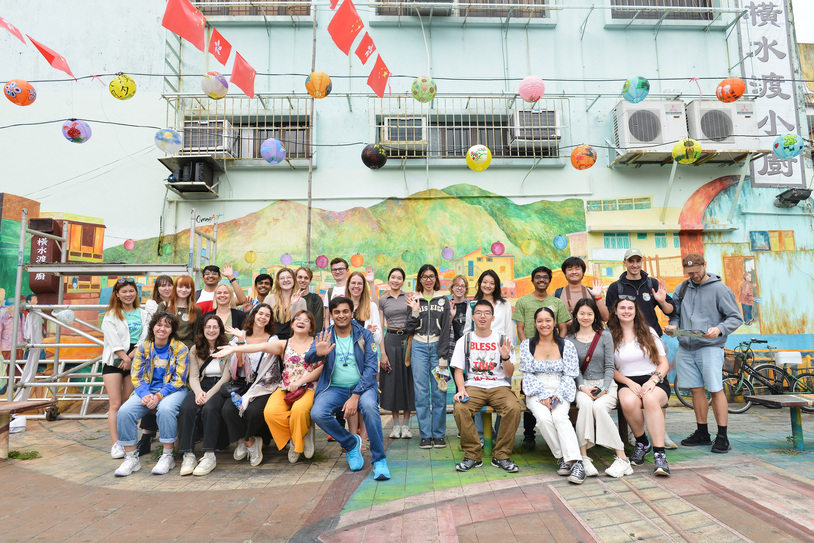 Tour to Tai O ‒ "Venice of Hong Kong"
Tai O, a traditional fishing village, is a long way off the beaten track for you to discover a very different side of Hong Kong, soak in the village's idyllic life, admire the old-style stilt-houses, savor local treats and explore the most authentic surrounding cultural landscape of old fishing life retained from the past.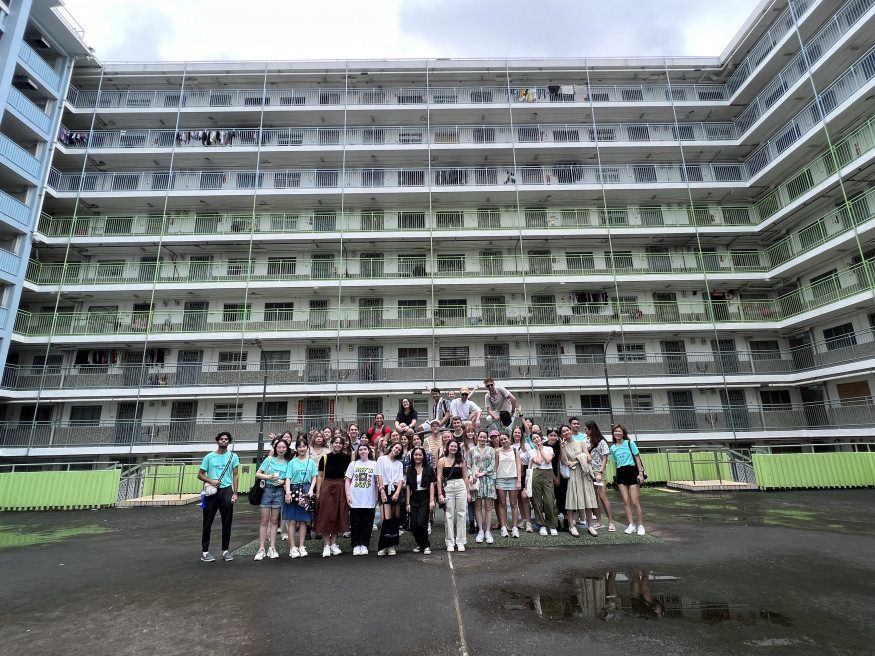 Glimpse of Local Life: Explore Shek Kip Mei
Get ready for an excitiing journey through Shek Kip Mei, immersing yourself in vibrant local life. Experience the bustling energy of Nam Shan Estate, indulge in the mouthwatering delights of Cha Chaan Teng, be captivated by the rich cultural landscape that showcases the very essence of this incredible city at JCCAC. Get set for an unforgettable adventure!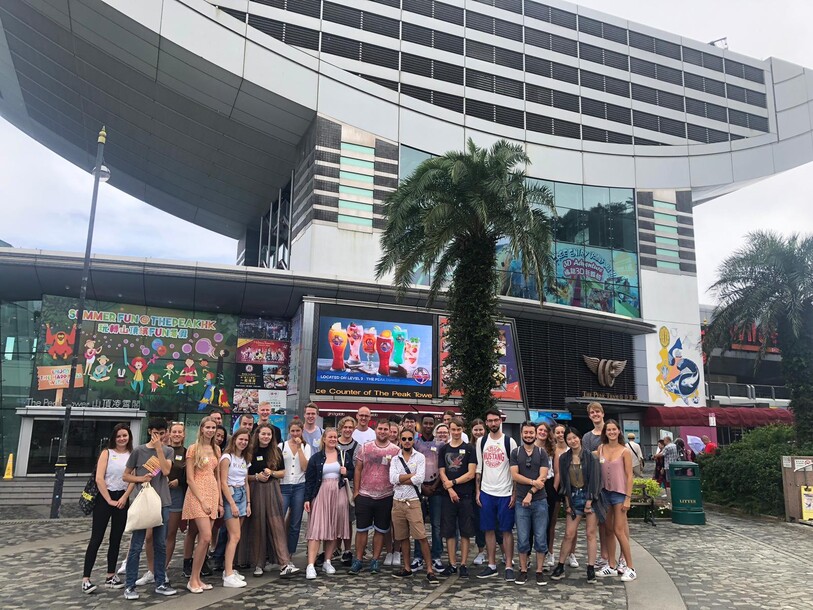 Rumbling Along The Peak On The Tram
Hop on the Peak tram, one of the oldest funicular railways in the world. Yet the journey is enjoyable you will soak in the spectacular skyscraper view along the way. Off the tram, now you arrive at the iconic wok-shaped Peak Tower! Say Cheese!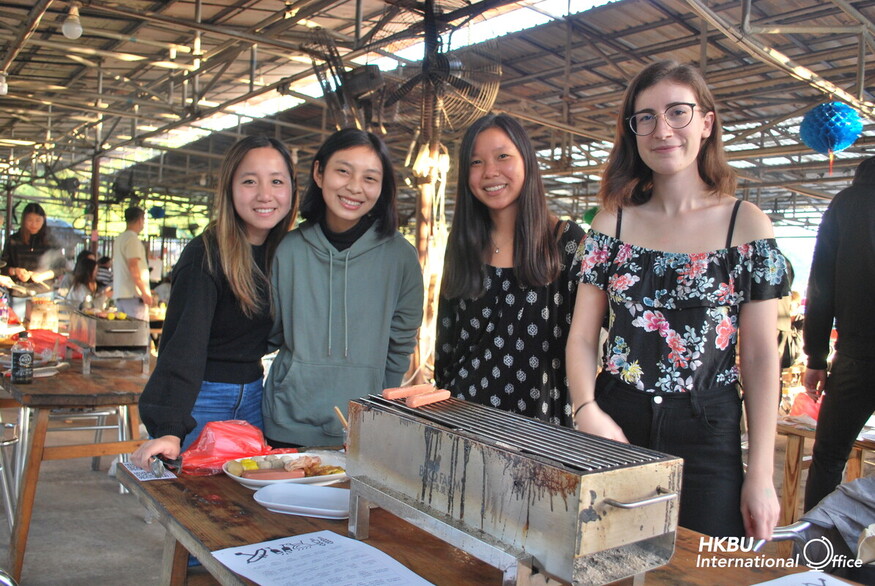 BBQ Party in Tai Po ‒ Hong Kong's Greenest Neighborhood
Surrounded by lush, valleys and riverside promenades, Tai Po is a greener, more relaxed version of Hong Kong. The BBQ Party in Tai Po serves as a good jumping off point for some rural excursions and celebrates the time that you and your fellow students studying at HKBU.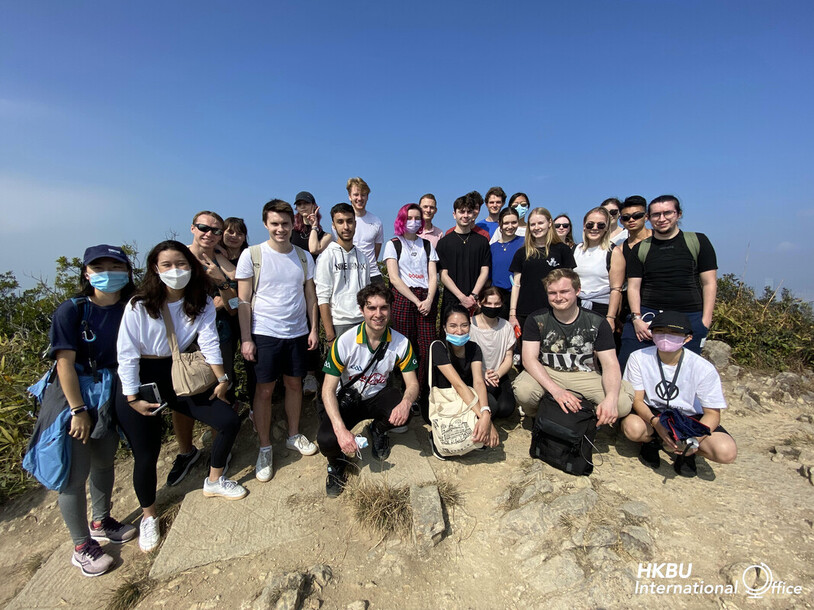 Victoria Peak (known locally as The Peak) ‒ Hong Kong's Most Scenic Trail
There are six hiking trails to The Peak. Start the hike from Central ‒ Explore it's rich cultural history while marveling at the stunning vista of Hong Kong as you hike along the Central green trail to the Peak. You come across historic Central-mid-level escalators and century-old trees. The stunning views of the iconic Hong Kong skyline is definitely worth the sweat!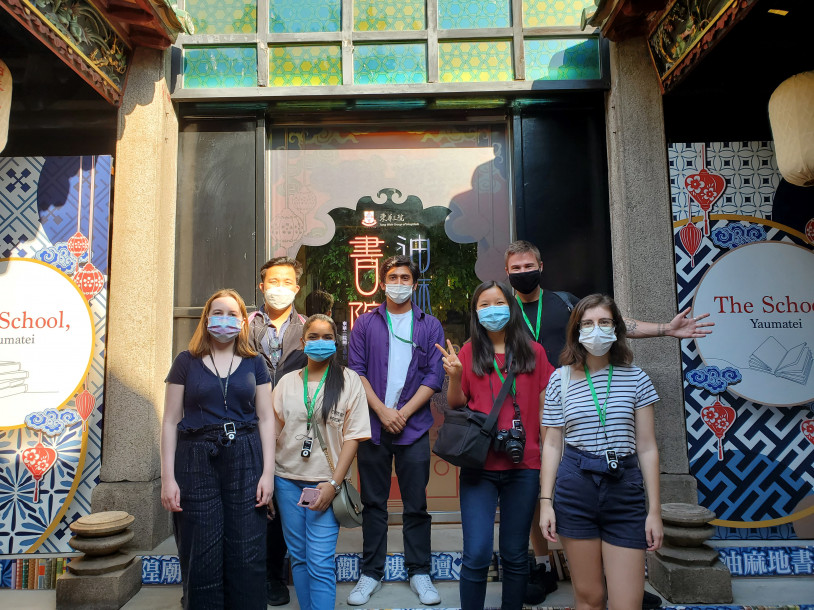 West Kowloon Neighborhood Cultural Walk ‒ A Day amused by Hong Kong's Old and Modern Traditions
Co-partnered with the Hong Kong Tourism Board, this heritage walk in old Kowloon unveils the evolution of the district. From the first stop at the fermented tofu store Liu Ma Kee learning about the secret recipe of the legendary "Chinese Cheese", to the second stop at the bookstore hidden in the iconic Tin Hau Temple, and the last stop at Tong Nam Lou Art Hotel that celebrates local art and culture.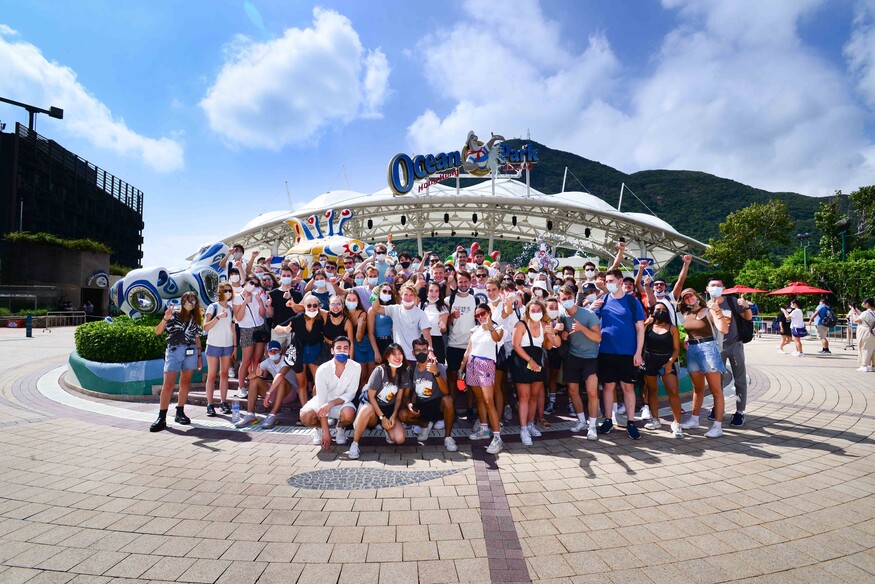 Perfect Day Trip to Ocean Park ‒ Hong Kong's Iconic Theme Park
Enjoy a day to Hong Kong's iconic and award-winning theme park, which features many thrill rides and an exciting array of attractions. You experience exclusive back-of-house tours exploring the secrets behind the Park's efforts in nature conservation.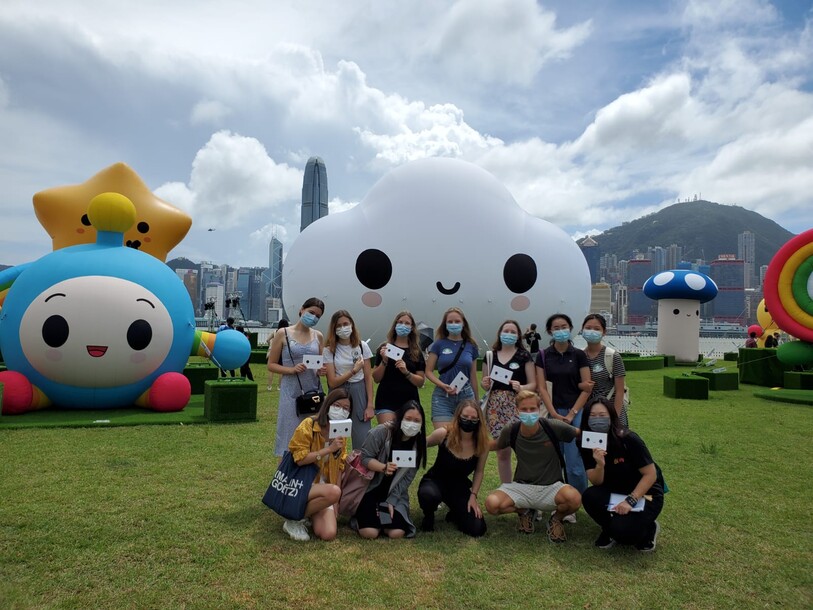 Explore West Kowloon Cultural District
Relax and immerse yourself in art, culture and nature. Visit the giant art installations in front of the stunning view of Victoria Harbor. Get a taste of pop art culture in Hong Kong's growing arts and cultural hub ‒ the West Kowloon Cultural District.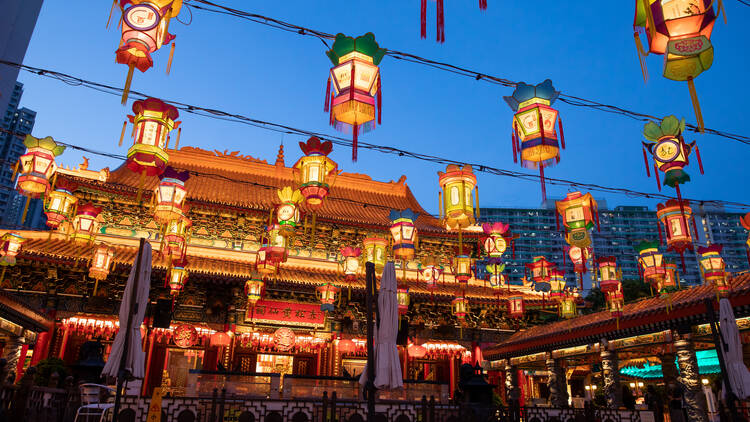 All Things Bright and Beautiful!
Dive into the Intangible Cultural Heritage. Have a night out to Wong Tai Sin Temple's Lantern Carnival to celebrate the traditional Moon Festival with lantern riddles, performances and games combining conventional and modern art!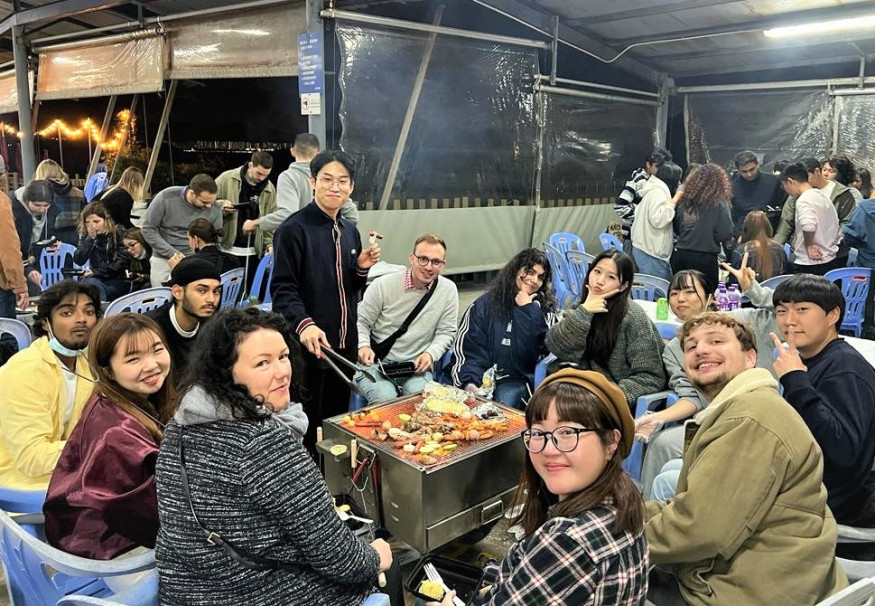 Farewell Barbeque Party
With the magnificent view of Tolo Harbour, we start the Barbeque Party! Hearing the sizzling of the grill, sharing waves of laughter, and giving warm hugs. It's a night full of love! We've come a long way from where we began, we will talk about all these good memories when we see you again!